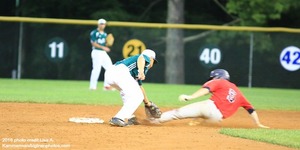 On a cool, cloudy night in Bethesda, the Big Train's bats were red hot.
The Big Train defeated the Herndon Braves 8-3 on the strength of 10 hits, including 2 enormous home runs. Gunnar Lambert (Florida Atlantic), pinch-hitting for DH Mike Emodi (Creighton), blasted a 2-run shot over the right-center field wall in the 7th, and Vinny Esposito (Sacramento State) followed suit with a solo homer to left an inning later.
The offense got on the board early with a 2-RBI double from Garrett Kueber (Moorpark) in the 2nd inning and never looked back. Bethesda struck with 3 runs in the 5th, followed by 3 more over the course of the 7th and 8th innings.
Big Train starting pitcher Logan Gilbert (Stetson) impressed once again, tossing 5 innings of 1 run ball and striking out 5. In his last appearance on June 17 against the D.C. Grays, Gilbert pitched 6.1 strong innings with 6 strikeouts. The bullpen ensured that Gilbert's efforts would not be in vain, and Mack Meyer (San Francisco) shut the door on the Braves in the 9th to lock down the win.
The Big Train move to 9-6 with the win, strengthening their hold on 1st place in the South Division. They will next appear Friday night to take on the league leading Baltimore Redbirds. First pitch is scheduled for 7:30 p.m.