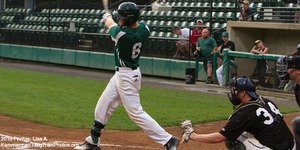 The only thing able to stop Logan Gilbert (Stetson) on Friday night in D.C. was Mother Nature. Gilbert breezed through the Grays' lineup allowing only one of 11 batters to reach base -- via a walk. He struckout four.
"I was pretty good, everything was coming out decent," Gilbert said. "[I] had my slider working so I was trying to go with that a lot ... just left it up to my defense and they had my back."
With one out in the bottom of the fourth inning, an hour-long lightning delay, forcing Gilbert out of the game, cost him his no-hit bid.
"It was too bad," the right-hander said. "Shortened game like this, you're thinking seven innings, you're trying to go the whole distance and take it easy on the bullpen for the day. Lightning got me for a little too long of a break."
Sean Barry (San Diego) -- who was originally projected to start the second game of the doubleheader which was postponed due to the delay -- took over on the mound when play resumed. He allowed two hits, but held the Grays scoreless throught the rest of the game, clinching the 1-0 victory.
Clayton Daniel (Jacksonville State) scored Bethesda's lone run in the first inning.
Allen Smoot (San Francisco) was the only player, for both teams, to record two hits in the game. He finished 2-for-3.
The Big Train play again on Saturday night, when the team hosts the Silver Spring - Takoma Thunderbolts. It will be carnival day at Povich Field, including a petting zoo, rides and sports-based games, such as throwing a baseball with a radar gun.
Carnival doors will open at 4:30 p.m. and will cost $10 to enter (for the carnival and baseball game) or $7 for just the carnival.
The postponed game will be made up on July 8th.