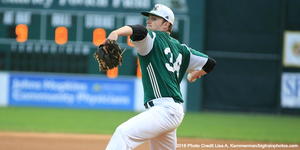 The Herndon Braves snapped Bethesda Big Train's four game winning streak in a tough 6-2 loss for Bethesda on Tuesday night. Big Train is now 17-8 on the season, and remains in first place in the Cal Ripken League's South Division. The second place Alexandria Aces did not play today, but improved a half game in the standings due to Big Train's loss and now trail by only three games.
The game began in the top of the first with a showcase of the duality of Bethesda's defense. Logan Farrar (Virginia Commonwealth University) led off the game with a nice grab in shallow centerfield to steal a hit, but the Braves were quickly allowed a free baserunner on an error by shortstop Garrett Kueber (Moorpark College). However, Kueber did not allow his miscue to faze him, and worked in tandem with second baseman Clayton Daniel (Jacksonville State University) and first baseman Vinny Esposito (Sacramento State) to turn a masterful 4-6-3 double play on a ball hit up the middle to erase his mistake.
The bottom of the frame set the night's theme for Big Train's offense as they faced Braves starter Conner Hall (Marymount University): frustration. After a Farrar groundout, Daniel smacked a double to right field, and was advanced to third on a groundout by third baseman Allen Smoot (University of San Francisco). Cody Brown (Mississippi State University) then walked, positioning runners at the corners, but catcher Justin Morris (University of Maryland) grounded out to the second baseman, stranding both Daniel and Brown.
In the top of the second the Braves manufactured their first run off of Big Train starter Matthew Herzog (Louisburg College). Designated hitter Alan Mocahbee (Middle Georgia College) singled, advanced on a sacrifice bunt and a passed ball, and then scored on a RBI groundout by right fielder Dakota Graham (Eastern Kentucky University).
In the bottom of the second, Esposito led off by hitting a bullet that appeared to be heading to right field for a base hit, but was instead snagged by the Braves' second baseman. This hard-hit out would be the first of nine straight Big Train batters retired by Hall.
The Braves scored again in the third on an RBI by Evan Alderman (Georgia Southwestern State University), and threatened again in the fourth after Herzog allowed consecutive singles and a walk to load the bases and end his night.
"He kept us in the game, even though he didn't have his best stuff," manager Sal Colangelo said of Herzog's start. "You know, he's been going a lot. You have those days."
Kyle Marman (Florida Atlantic University) came into the game in relief of Herzog, and allowed a run to score, leaving Herzog with three runs charged to him over three and a third innings pitched. In the fifth, Marman allowed two more runs, both driven in on a double by Zach Barron (Georgia Southwestern State University).
In the bottom of the fifth, Big Train's offense began to heat up after going an entire turn though the lineup without reaching base. Esposito led off with a single down the left field line, and then reached third on a single by Sean Labsan (Florida Atlantic University) down the right field line. A batter later, Kueber reached base on an infield single, loading the bases with only one out. However, Farrar and Daniel both flew out, stranding all three runners. Farrar was visibly frustrated, slamming his bat into the grass on his way out of the batter's box.
In the top of the sixth, two Herndon runners reached base, one on a single, the other on an error, but both were erased by Morris's arm as they each attempted to take second base, thus producing Big Train's first inning in which only three batters came to the plate since the first, albeit in an unconventional way.
Hall exited the game before the bottom of the sixth, which was perhaps a contributing factor to Big Train's first run of the night. Braves reliever Robert Klinchock (Shenandoah University) hit Smoot with the first pitch he threw, and allowed him to advance to second on the next ball to leave his hand, which was ruled a wild pitch. After a couple of fly outs, he was driven in by an Esposito single.
The Braves struck again in the seventh, this time on an interesting balk call on Bethesda reliever Blaine Lafin (Virginia Military Institute). The balk allowed Cayden Stover (Chesapeake College), who had doubled earlier in the inning, to advance from third to home. Though it was unclear to those in the press box why exactly the balk was called, Colangelo attributed it to misunderstanding a rule about a "hidden ball trick" and whether the pitcher was allowed to be on the mound during said trick.
Big Train left the bases loaded for the second time in the game in the bottom of the eighth. Brown, Morris, and Esposito reached base on a Braves error, a hit by pitch, and a single, respectively, but none scored.
"We weren't aggressive, we weren't physical, we were defensive at the plate with the bases loaded," Colangelo said. "We've got to be aggressive. We were swinging a pitches that were balls. We were swinging at pitches we shouldn't be swinging at. We were helping them."
Esposito's single in the inning marked his third hit of the day, leaving him three for four. His only at-bat that did not produce a hit was his hard line-out to second in the second inning. He was the only player in the Big Train lineup with more than one hit.
In the bottom of the ninth, with only three outs to go, Big Train kept battling. Michael Emodi (Creighton University), who had entered the game earlier as a pinch hitter, walked to lead off the frame, and then advanced to second on a wild pitch and to third on a passed ball. He then scored on an RBI groundout by Peyton Sorrels (University of Maryland). Farrar then legged out an infield single on slow roller to the third baseman, but Daniel flew out to right, as did Smoot on a towering drive to right field that fell into the right fielder's mitt, just shy of the fence, to end the game.
"They weren't going to give up," said Colangelo. "They believed they could still win. It's baseball. [Tough games] happen. But we're not going to give up. We're not going to let that happen."
Big Train's next game is Wednesday against the Rockville Express. First pitch is at 7:00 PM in Rockville.