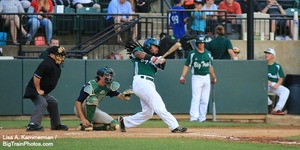 The Big Train will look to rebound from a tough Saturday night loss against the Rockville Express when the team hosts the River Dogs from Vienna on Sunday night.
Logan Farrar (VCU) made his season debut against the River Dogs on July 30th, and what a debut it was. He reached base in four of his five at-bats, including a seventh inning grand slam to put the game out of reach.
He wasn't the only Big Train player to carry a hot bat in the 9-1 rout, as Cody Brown (Mississippi State) and Peyton Sorrels (Maryland) combined to reach base in six of their seven at-bats.
Chris Monaco (Virginia Tech) is the projected starter for Sunday evening's ballgame. Monaco (1-0 with a 4.15 ERA) threw a solid four innings in his last outing, striking out five batters while only allowing one hit. Three runs did cross the plate on the right hander, but all were unearned.
He will be faced with the task of pitching to a tough Vienna lineup that has four players with an average above .300, led by Jordan Sergent and Nate Favero. Sergent holds the sixth highest batting average (.357) in the Cal Ripken League. He also has hit the second most home runs (5). Favero leads Vienna with 23 RBIs.
The River Dogs currently sit at 12-16 and are 5-5 in their last 10 games.
With a win, the Big Train will improve to 4-1 against them this season.
It will be Halloween night at Povich Field so bring out your best costume. First pitch is at 7:30 p.m.