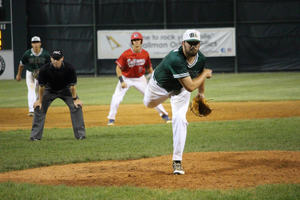 Heading into the all-star break, the Big Train sat at the top of the South standings with a record of 21-10, 2.5 games ahead of the Alexandria Aces.
Eleven players will represent the Big Train in Wednesday's all-star game, tied with the Baltimore Redbirds for the most players from any team.
"It speaks volumes about our team, we got a lot of talent here, a lot of good players," said All-Star Cody Brown (Mississippi State), who will be competing in his third Cal Ripken League All-Star Game.
Paving the way for the first place start has been the pitching staff. The Big Train hold the second lowest ERA, WHIP and batting average in the Cal Ripken League. Sal Colangelo, Big Train and all-star game manager, will have plenty of his pitchers at his disposal:
Sean Barry (San Diego)
Logan Gilbert (Stetson)
Mack Meyer (San Francisco)
Drew Strotman (St. Mary's)
Johhny York (St. Mary's)
Barry (1.37) and York (1.67) are second and fourth respectively in ERA in the league. Gilbert's ERA sits at 1.30, but he is four innings away from officailly qualifying for the stat. He is tied with John Murphy (Maryland) for the team lead in wins with three.
Strotman allowed four runs in less than three innings his last outing, but was pitching so well prior to the game that his ERA still sits under 3.00.
Sitting at the back end of the bullpen awaits Meyer. Meyer, with his sidearm delivery, has saved three ballgames so far this season and holds the second lowest ERA (1.35) of any player with at least two saves.
While the pitching has paved the way, the offense has been no slouch by any means. The lineup has scored 187 runs, only one short of the league-leading Redbirds. The offensive firepower has been the result of an incredibly deep lineup which has produced six all-stars:
Cody Brown (Mississippi State)
Clayton Daniel (Jacksonville State)
Vinny Esposito (Sacramento State)
Logan Farrar (VCU)
Justin Morris (Maryland)
Allen Smoot (San Francisco)
All six of the position players have an on-base percentage at, or over .400, led by Daniel and Morris' eye-popping .425 mark. Smoot, the league leader in RBIs with 32, bats .311 with three home runs. The only Big Train player with more home runs is Esposito, who has four.
Farrar, now a two-time Cal Ripken all star, has been virtually all over center field, turning easy singles into outs. Brown leads the Big Train with a .341 batting average and is always a threat to take an extra base with his always aggressive base-running style.
"For me personally, it's just an honor to be able to represent my university and the Big Train and [I will] give it all I got," Brown said.
The game will be played at Povich Field with a normal start time of 7:30 p.m. The home run derby will precede the game.
By Melyssa Cave, Brendan Feeney, Danny Kobren, and Nick Som