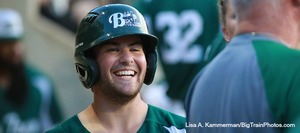 The Bethesda Big Train suffered their first loss in six games as they fell to the Baltimore Dodgers, 8-7.
The bottom of the Big Train lineup provided an early boost for the offense. In the top of the second inning, the home standing Dodgers committed two crucial mistakes, which allowed Vinny Esposito (Sac St.) and Justin Morris (Maryland) to reach second and third. Gunnar Lambert (FAU) laced an RBI single to right field to get the scoring started for Bethesda.
Garrett Kueber (Moorpark) and Peyton Sorrels (Maryland) kept the offense rolling. Kueber knocked in Morris with another RBI single to right. And Sorrels smashed a ball back to the pitcher; scoring Cody Brown (Miss. St.) and pushing the Big Train lead to three.
Baltimore took the lead with an effective, five run fourth inning.
Logan Farrar (VCU) cut the lead to one after he reached on a walk and came home on a passed ball in the top of the fifth.
The Big Train were on the wrong end of a controversial call. Brown reached third after a walk and a pair of wild pitches. Lambert blasted a fly ball to center and the Mississippi State product tagged home and appeared to tie the game. Baltimore's pitcher appealed before the next pitch and Brown was called out. The inning ended with the Big Train still down, 4-5.

Kyle Marman (FAU) turned in a phenomenal performance in relief. He pitched 3.1 innings of no hit baseball and struck out four.
After Marman's departure, Baltimore added to their lead in the eighth inning. They tallied three runs to make the score 4-8.
Bethesda would not go down easy in the top of the ninth. With two men on, Farrar roped a two RBI line drive to right and easily cruised to second. The Big Train drew within one when Clayton Daniel (Jacksonville St.) knocked an RBI dribbler into center.
Unfortunately, the team could not even the score.
The Big Train have a quick turnaround as they face the second place Alexandria Aces in a doubleheader tomorrow. Game one begins at 5:00 p.m.