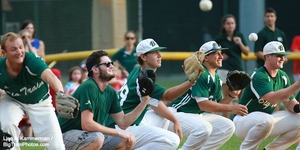 Both the Big Train and the Baltimore Redbirds have their respective divison locked up, giving each team an automatic bye into the second round of the playoffs no matter the result of Thursday night's affair. However, that does not make the final regular season matchup between the two team's meaningless. In fact, it could end up being the most important game of the season.
The two division leaders are tied for first place in the CRCBL the Big Train have won two of the three previous matchups, and the teams hold the same overall record, 27-11
What does all this mean?
The winner of Thurday night's matchup could very well earn themselves home-field advantage in the championship game.
Now while Bethesda looks to be in a good position after sweeping the doubleheader on Friday July 15th to take a 2-1 season-series lead over Baltimore, the home team is 3-0 in the series, making the potential fight for home-field advantage that much more important.
Justin Morris (Maryland) found a lot of success at the plate in last Friday's doubleheader. He hit 5-for-9 with two RBIs and two runs scored -- one of which ended the game via a walk-off wild pitch.
Chase Gardner (San Francisco) is Thursday night's projected starter. In his last three appearnaces combined, all in relief, the Novato Ca. native hasn't surrendered a single run and has only allowed one hit.
First pitch will be at 6:30 at Calvert Hall High School.