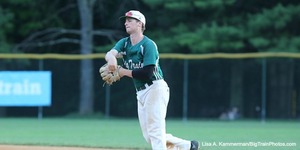 The Bethesda Big Train begin their quest for their first Cal Ripken Sr. League title since 2011 tomorrow night as they host the fifth seeded Gaithersburg Giants.
With their first place finish in the CRCBL South division, the Big Train earned their 11th straight playoff berth. They are in search of their ninth straight appearance in the league championship series.
Gaithersburg defeated the Big Train in their first matchup of the year but since then the Big Train have rattled off three straight victories against the Giants. Each time these two teams met, the game was decided by three or more runs.
In their latest meeting, Bethesda came out with a 4-1 win. Six pitchers saw action in this game including tomorrow's projected starter, Johnny York (St. Mary's). He posted one perfect inning of work in the victory.
The Gaithersburg bats will have their hands full as the all-star pitcher has been nothing short of spectacular all season. He has accumulated a league leading 1.36 ERA over eight games pitched and has struck out 29 batters this year.
Vinny Esposito (Sacremento St.) and Allen Smoot (San Francisco) lead the offensive charge for Bethesda. Esposito's late season surge pushed him to 38 RBIs, good enough for first place in the league. Smoot trails Esposito by only one RBI, putting up 37 in a tremendous season of work.
Game one of this best-of-three series is set to start at 7:30 p.m. Monday night at Shirley Povich Field.