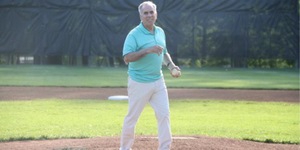 With a packed house on hand and a long history at Shirley Povich Field, renowned baseball reporter Tim Kurkjian was particularly concerned about one thing Thursday night.
"I just hope I do ok on the first ball ceremony," Kurkjian said.
Kurkjian was on hand for the team's home-opening 5-4 win over the D.C. Grays Thursday night. This provided the latest chapter in homecomings at Povich field for the ESPN baseball reporter after he attended a Big Train game last year.
"This is right in my backyard almost literally," Kurkjian said.
A local guy, Kurkjian grew up about two miles from the Big Train's home turf and graduated from Walter Johnson High School before attending the University of Maryland.
"I played all my games on this field growing up." Kurkjian said. "When I wasn't playing here as a young kid I was watching the big guys play here."
Before throwing out the first pitch, a ball Kurkjian ultimately delivered a little high but over the plate, the longtime reporter spent the night speaking to the Big Train players and coaches about his experience with the game. He even had a catch with a few of the young ball-players before his shot on the mound.
"One of the greatest quotes I ever heard is 'If Cal Ripken's in the room I'm going to be quiet because he knows way more than I do,'" pitcher Stephen Schoch (UMBC) said. "And so just sitting back and listening to what [Kurkjian] had to say was really cool."
In his address to the team, Kurkjian detailed the difficulties of baseball and that those donning the green and white jerseys in Bethesda Thursday night shouldn't get down on themselves if they struggle.
"The message was this is the hardest game in the world to play," Kurkjian said. "And you can't get discouraged if you strike out four times in a game because that's what Mike Trout does, it's what Bryce Harper does. People do this all the time."
Kurkjian's appearance left a few of the players slightly star-struck, as the ESPN reporter is a prominent figure in the wide world of sports' baseball coverage.
"That was cool," Garrett Kueber (Austin Peay) said. "It's really awesome to get one of those ESPN guys. They know a ton about baseball, seen so much and it's just really cool to hear what he's got to say."
Manager Sal Colangelo echoed the sentiments of how knowledgeable Kurkjian is and what an incredible opportunity it was for the players to hear from him.
"Brilliant mind of baseball," Colangelo said of Kurkjian. "You know he could be a scout, he could be a general manager, he's a ESPN analyst, and by far the best and a future hall of famer."
Colangelo also noted the passion Kurkjian possesses for baseball – a passion the longtime manager sees as inspiring for his team.
"Anytime he's out his knowledge and passion about the game, the love for the game, the kids idolize and look up to what Tim Kurkjian stands for, what he does."
Despite all the praise heaped upon him, Kurkjian was quick to highlight the unique experience the CRCBL and Big Train provide for young players, showing his humble personality Colangelo and so many others described.
"I think it's something all kids this age should at least try once," Kurkjian said. "You know, what's it like to go away for the summer, get away from your college program and learn something somewhere else."
And while the day concluded with a tight Big Train win, for Kurkjian, it was just another chance to help the community that raised him.
"Without being corny we're trying to help build some baseball fields, we're trying to get more kids involved in the game," Kurkjian said. " You know we've lost a lot of kids to other sports, so anything I can do to kind of drum up some interest in baseball, that's a good thing."
Check out what Tim Kurkijan said to the Big Train and his thoughts on returning to Shirley Povich Field on our YouTube channel!
https://www.youtube.com/watch?v=MU0zzz6AaGQ&feature=youtu.be