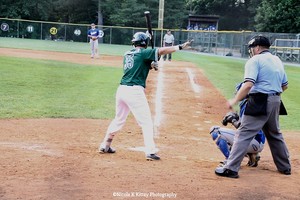 The Big Train have taken their offensive showcase on their five-day road trip.
To start the week away from home, the Big Train put up double digit runs with a combined 35 hits in a doubleheader sweep over the Loudoun Riverdogs on Sunday to continue their perfect road record.
"Guys were seeing the ball well and getting good pitches to hit, putting good swings on them and getting everything squared away," assistant coach Eric Williams said. "They're all good hitters. We've got good hitters all around. We just have to see a lot of good pitches."
Bethesda has compiled double digit hits in each of their five home games, putting up five or more runs in the process. The Big Train had each player in the batting order obtain a hit in the first game of the doubleheader against Loudoun and had all but one player get a hit in the second game.
The Big Train also had six players hit .500 or better in Sunday's first game while five players hit that mark in the second game of the evening.
"Baseball has it's ups and downs and some days you come out and hit the ball really well. Other times, you see us come out and not hit the ball too well," infielder Vinny Esposito (Sacramento State) said. "When we get out here early, we hit, we take (batting practice). It's all about just trying to stay in the same mindset, trying to get as many hits (and) as many runs as we possibly can."
Playing away from home has given players like Matt Green (Saint Mary's) a spark in the offensive rotation. The Long Beach, California native went a perfect 4-for-4 at the plate in the second game of Sunday's doubleheader, earning an RBI in the process.
Green also hit his only triple of the season in the Big Train's second away game of the year against Rockville on June 7.
"Personally, I don't see a huge difference on the road and (in Bethesda)," Green said. "I think that benefits me individually. I don't know if other people see it differently. I try to look at it as the same as being home. I try to keep things consistent."
According to Williams, there are more opportunities to get closer as a team on the road. Shirley Povich Field's dugouts are wider, which allows team members to spread out more. At oppositions' fields, the dugouts tend to be smaller, allowing the Big Train to bond more tightly as a unit.
The bullpens are also closer to the dugout, allowing the pitchers to converse more with the infielders. Williams said that because the routine and environment is on unfamiliar territory, that allows Big Train players to bond more closely and play for each other away from their home.
"It's a little less routine for them when we're away, so they might not be as relaxed as they can be at home when they know how things are supposed to work, whereas when they get away to somewhere it's different. And that might be it," Williams said. "In reality, I think maybe they're a little closer together sometimes when they're away because of the environment.
"Like (Sunday), the dugout was tiny and the bullpen was close, where at home we can spread out. So that might be it."
The matchup with the Silver Spring-Takoma Thunderbolts takes place at Montgomery Blair High School on Monday at 7 p.m. The Thunderbolts head into Monday's game riding on a three-game winning streak, coming off a doubleheader sweep against the Baltimore Dodgers.
Silver Spring-Takoma compiled 13 hits to score 13 runs in game one and fed off seven Dodger errors to come away with a one-run victory in game two on Sunday at Blair High School.
Check out Sunday's doubleheader highlights, featuring broadcasters PJ Glasser and Max Wolpoff!
https://www.youtube.com/watch?v=a_0mkuRu28A&feature=youtu.be