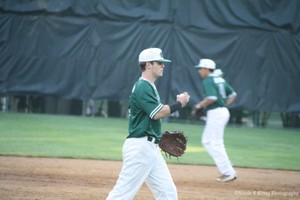 Standing 6-feet and weighing 180 pounds, Tanner Allen (Mississippi State) has the physical makeup and athletic ability to succeed in Division I baseball. But the Big Train's first year infielder never limited his skills to the diamond.
"There was never any doubt that baseball was going to be his sport but yet he was a mighty good quarterback," UMS-Wright Prep football coach Terry Curtis said. "He could spin it, he could run it."
Allen, a rising freshman at Mississippi State, is the next player in a line of successful Bulldog products to play in Bethesda the past few summers including Cody Brown (BT 2015 & 2016) and Blake Smith (BT 2015). Allen is also the only high school player on the Big Train roster this summer.
"Mississippi State kind of hooked me up with this team," Allen said. "Earlier this year, probably about January, somewhere in there, coach [Will] Coggin texted me and said 'You're going to be playing in Maryland.'"
Gridiron Gladiator
Though he is focused on bringing another Cal Ripken Collegiate Baseball League Championship to Bethesda, Allen's career on the gridiron cannot be ignored.
A three-year varsity starter at quarterback for the UMS-Wright football team, Allen was an exceptional signal-caller. During his tenure leading the huddle Allen took the Bulldogs to the Alabama 4A semifinals in 2014 and reached at least the second round of the state playoffs in 2015 and 2016.
"The kids looked up to him," Curtis said. "He had a lot of confidence from baseball and then starting as a sophomore. He listened and took a lot in and all. You could see him grow with his leadership skills."
Curtis described Allen as a star on the field, but made it clear he didn't take any shortcuts in his system. The UMS-Wright head coach said Allen's toughness, eagerness to take in coaching and innate ability to tune his coach out when necessary helped him excel in his offense.
"I'd tell them before the one position you probably don't want to play on this team is quarterback cause I coach them rough because I know how the game's going to be," Curtis said.
Allen and Curtis' success together accentuated their quarterback-coach relationship on the football field, but their connection extended into baseball as well. Curtis, a 41-year coaching veteran, pitched for Auburn in the early 1970's on a full baseball scholarship and described how Allen's success in football will help him make the jump into SEC baseball.
"The things that he learned in football as far as the work ethic and the time management and the patience is only going to help him as he goes to Mississippi State," Curtis said. "I really think he's going to be a great player there just because of the things that he's already had instilled in him."
Back to the Diamond
Following the end to his football career at UMS-Wright, Allen was a superstar on the diamond. The Theodore, AL native hit .398 with a .514 OBP en route to the Alabama 4A State Championship his senior year, the team's second in a row.
And through all the praise and acknowledgments heaped on Allen, UMS-Wright head baseball coach Kevin Raley echoed the same sentiments as Curtis about the budding star – he would do anything to make the team better.
Roughly eight games into his senior season, Raley approached Allen about moving from his normal spot at shortstop, where he was an All-State performer the previous year, to centerfield. The move was designed to make room for a sophomore who was hitting the ball well, but forced Allen out of position.
Raley said Allen took the suggestion in stride, saying he'd do anything to help the team win. He even took the mound a number of times for the Bulldogs, most notably closing Game 1 of the state finals.
"He's that type of kid," Raley said. "He'll do whatever you ask him to do."
Struggles Aside, Allen's Future is Bright
As for the CRCBL season, Allen enters Thursday's contest against the Alexandria Aces hitting only .138 with 4 RBIs in 11 games. However, he isn't shy to tell you he's struggled.
"It's not always going to go your way," Allen said. "You're never going to figure it out if you give up so I'm just going to keep working, keep trying to play my butt off and play the right way and keep learning."
Manager Sal Colangelo also noted Allen's difficulties, but was quick to recognize the talent he possesses.
"Any time you go from high school to this level you're going to struggle at first," Colangelo said. "But Tanner has exceeded my expectations already in such short period of time. He's going to be a big addition to this team and he's going to be a stud."
Raley also has confidence his former player will adjust sooner rather than later.
"The one thing about Tanner [is] he will adapt to it," Raley said of Allen facing a higher level of competition. "He may start out there a little slow but I'm telling you it won't be long before you're going to start seeing the reason Mississippi State signed him."
As both Raley and Colangelo note, it's clear Allen has the talent to play at the college level and they're not the only one's who see the potential.
In last week's MLB Draft, Allen was the 36th round pick of the defending champion Chicago Cubs.
Allen was thrilled to be drafted, but he sees his future in Starkville, at least for now.
"It's truly humbling being drafted by the defending champs," Allen said. "And again it's such an honor to be selected in the MLB Draft out of high school and I look forward to going to school, putting some work in and hopefully be able to get drafted again."