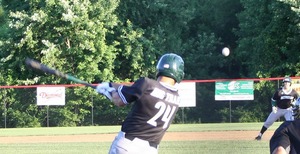 The Big Train earned their first shutout victory on Thursday, a 9-0 thumping of the Express, for their third straight win.
The day after a tense game against the Braves – in which the two teams traded leads and the Big Train's go ahead runs came only in the eighth inning – Thursday's victory was as easy as the Big Train could have hoped. Locked in from the outset, the team put up four runs in the top of the first to set the tone for the rest of the game. Getting off to a fast start is a big confidence booster for the Big Train, as 13 of their 16 victories have come after they scored within the first three innings.
Several starters had nice nights at the plate. Zach Jancarski (Maryland) and James Outman (Sacramento State) collected two hits apiece, while Logan Driscoll (George Mason) and Kevin Milam (St. Mary's) each had one.
"It was a team win," Colangelo remarked. "Top to bottom, we executed, got guys over, got hits, did what we needed to do to win."
Vinny Esposito (Sacramento State), who has been slow to heat up at the plate after his outstanding 2016 season with the Big Train, had one of his best offensive games of the season. His two knocks tied his season high for hits in a game and his three RBI set his season high mark.
"Just trying to see something up in the zone and get a pretty good swing on it," Esposito said about his approach at the plate. "Just like every other day."
Though the offense was typically outstanding, the game's real stars were the Big Train pitchers, who blanked their opponent for the first time this season. Starter AJ Jones (State College of Florida) threw five outstanding innings of four-hit ball, picking up six strikeouts. Matt Green (St. Mary's (CA)) and Mitchell Wilson (UMBC) split the final four innings, adding another five combined strikeouts. Green, who is primarily an outfielder, made his second appearance on the mound this season, and has not allowed a run in his three innings of work.
"AJ did a great job, had great command today," Colangelo said. "He was able to throw three pitches for strikes and really helped us."
After another triumphant couple of games on the road, the Big Train will look to continue that push into this weekend's home stand. Four of the Big Train's six losses have come at home, an interesting turn of events given the team's history of success at Povich Field.
"That's a good question," Esposito remarked when asked about a possible reason behind the Big Train's struggles at home, "because we've been playing a lot of games on the road really well and going back home and losing our edge a little bit. Hopefully we can keep the momentum going and win a couple in a row."
For Colangelo, though, the remedy for his team's home woes is fairly straightforward.
"We just need to keep playing hard," he said.
The Big Train face off against the Silver Spring-Takoma T-Bolts on Friday. The first pitch at Povich Field is at 7 pm.