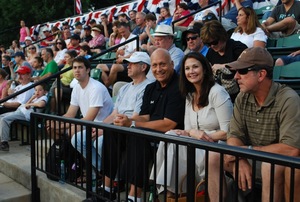 Box Score: W, 12-1
Though the Big Train were not technically the home team on Saturday night, you would have had a lot of trouble figuring that out. The game was played at Povich Field and the Big Train played as if they were at home sweet home and demolished the Orioles by a score of 12-1.
The Big Train got on the board early as Michael Bass (UNC-Wilmington) walked, Brendan Hendriks (San Francisco) reached on an error, and Adam Barry (Cal State Northridge) was hit by a pitch. That brought Hunter Renfroe (Mississippi State) to the plate to hit the Big Train's first grand slam of the season.
The Orioles had it just as bad in the second inning. After Brennan Middleton (Tulane) was hit by a pitch and Bass walked again, Hendriks singled to bring in a run. Then Barry singled and Renfroe walked leading to a bases-loaded single from Tucker Tobin (George Mason) to score another run. After an error by the right fielder brought home two more, the score stood at 8-0 after just two innings.
While the big innings were over, the Big Train were not done scoring. Four more runs would go up on the board before the end of the game compared to just one from the Orioles. The biggest of those runs was Renfore's second home run of the night.
Ryan Doran (San Diego State) starred on the mound for the Big Train as he had a no-hitter through 4.1 innings with the score 11-0. He ended up getting the win after pitching five innings on just one hit and no walks while striking out five.