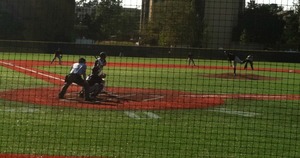 Box Score: W, 6-4

The Big Train got in the win column once again, defeating the D.C. Grays 6-4 behind solid pitching by Ben Griset (St. Mary's (CA)) as well as some timely hitting.
Griset would have to bring his A-Game, clinging to a 1-0 lead for most of the game; the one run coming on a first-inning RBI triple from Hunter Renfroe (Mississippi State), scoring Michael Bass (UNC Wilmington).
Griset responded, giving up just two hits and no runs over the course of his 6.2 innings and striking out eight.
He would be rewarded for his efforts in the sixth inning, as the Big Train added three big runs on a bases-clearing triple from Avonde Bollar (San Diego State), that scored Renfroe, Adam Barry (UNC Wilmington) and Tucker Tobin (George Mason); giving the Big Train a 4-0 lead headed into the bottom of the sixth.
Griset then recorded two more outs in the sixth before turning it over to Ethan Miller (San Diego State). Miller shut down the Grays bats the rest of the way, striking out two over the final 2.1 innings netting the Big Train their eleventh win of the season.