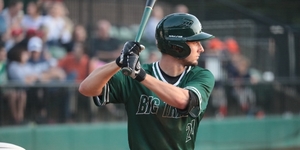 The Riverdogs lost their season opener Wednesday night at the Silver Spring-Takoma Thunderbolts, 9-2. Bethesda swept the teams' season series in 2017, 5-0.
The Big Train were led, in the rout over Gaithersburg at Povich Field, by catcher Carson Taylor (Virginia Tech), who hit 3-5 with a three runs and 4 RBI, and by outfielder Justin Wylie (University of Arizona), who went 2-3 with a home run and 4 RBI.
Having scored 31 runs over the first two games of the new season, the Big Train will roll into Rock Ridge High School in Ashburn, Virginia with an eye on continuing its great run of offensive form.
First pitch on Thursday night is scheduled for 7:00 p.m. Fans who can't make it out to the park are encouraged to follow along on Twitter (@gobigtrain) and Instagram (gobigtrain) for updates and stats throughout the game. Max Wolpoff and PJ Glasser will have the Big Train radio broadcast which can be found with this link http://mixlr.com/big-train/.