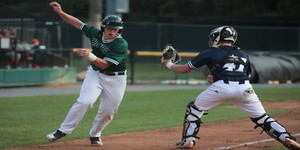 After defeating the Riverdogs the evening before, Bethesda Big Train will be traveling to the home field of the Alexandria Aces on Friday, June 8th, for a 6:30pm game.
Bethesda Big Train is currently ranked first in the Cal Ripken South League with 3 wins and no losses. The Alexandria Aces currently have 1 win and 2 losses, putting them in third in the Cal Ripken South League.
Key players for the Aces are Kris Kramer (Penn State University), Justin Kelly (Wayne State University), and Tristen Jorah (Wayne State University). Kelly, a catcher for the Aces, and Jorah, an infielder, both lead the team in batting averages, with an average of .286. Kramer leads the team in homeruns and RBIs, with 1 homerun and 2 RBI.
Come out and support your Bethesda Big Train tonight! If you cannot make it to the home ballpark for the Alexandria Aces tomorrow, be sure to stay updated on the game on Twitter, Instagram, or Snapchat @gobigtrain, or follow the "watch live" link on the Bethesda Big Train home page to hear live commentary from Max Wolpoff and PJ Glasser.