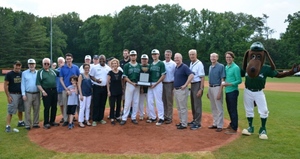 On Saturday

night June 9, the Big Train celebrated the 20th season of Bethesda Big Train baseball at Shirley Povich Field with festivities prior to the game with the Rockville Express. Big Train founder Bruce Adams presented Carol Trawick with a framed print of Povich Field by famed local artist Joseph Craig English in appreciation for the tenth season of support by the Trawick Foundation of the Big Train's Nonprofits of the Night program. Cara Lesser represented KID Museum as the night's Nonprofit of the Night.
Hank Thomas took the mound and explained in 30 seconds why Walter "Big Train" Johnson was baseball's greatest pitcher. Really, the first statistics Hank used to confirm his grandfather's place in history said it all: Walter Johnson started 666 major league games, completed 531, won 417 of them, and recorded 110 complete game shutouts. Former Washington Post Sports editor George Solomon represented the Povich Family and explained the magic of Shirley Povich's prose.
Next up on the mound for first pitches was a Congressional delegation working in bipartisan harmony with United States Senator Chris Van Hollen and former Members of Congress Mike Barnes and Connie Morella.
The state and local government team was represented by Prince George's County Executive Rushern Baker, Park & Planning Commission Chair Casey Anderson, Maryland State Delegate Marc Korman, and Montgomery County Council President Hans Riemer. Council President Riemer presented Big Train Manager Sal Colangelo and General Manager David Schneider with a County Council proclamation celebrating 20 seasons of Big Train baseball at Povich Field.Big Train Booster Club chair Randy Schools, former volunteer chair and Big Train historian Bill Hickman, and John McMahon of Miller & Long took part in the on-field festivities.
The capstone event was the presentation of the 2017 Cal Ripken Collegiate Baseball League Championship Trophy by League Commissioner Jason Woodward to Sal Colangelo and two returning members of the 2017 Big Train team, Cameron Vassar and Fox Semones.
The rain held off long enough to allow the Big Train to defeat the visiting Rockville Express 4-1 to go 5-0 at the season's start.
The 2018 souvenir program has a section where Big Train founder Bruce Adams answers 20 frequently asked questions about Big Train baseball at Povich Field. Read it on Page 6 here.