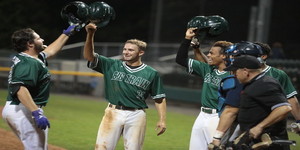 Big Train, who held on strong in their game last night against the FCA Braves, will be traveling to Gaithersburg, Maryland to take on the Giants.
With their win last night, Big Train is now 12-2 and is still ranked first in their division. The Giants have a record of 7-8 and are currently ranked second in the Cal Ripken North Division.
Big Train is 1-0 in previous games against the Giants, with the Train winning 20-1, and they are looking to continue to win against the Giants tonight.
Key players for the Giants include: Adam Spurlin, who leads the team with 8 RBI, 1 home run, and a batting average of 0.231; Andres Machado, who leads with a batting average of 0.366 and 5 RBI; and Ryan Brown, who stands out on the Giants with a batting average of 0.311 and 6 RBI.
First pitch is scheduled for 7 p.m. at the Giants home ballpark in Gaithersburg.