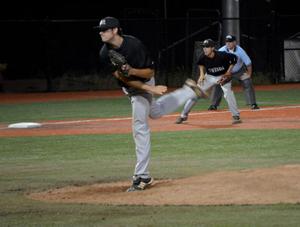 Box Score: W, 4-3
The Big Train busted out of a small slump in a big way last night as they beat the Baltimore Redbirds 4-3 in 11 innings.
Jordan Gross (Tulane) got the start for the Big Train and gave up just three runs over six innings on only three hits. The Big Train bats helped him early as a two-run homer by Hunter Renfroe (Mississippi State) in the first inning brought Brendan Hendriks (San Francisco) in to score and gave the Big Train an early lead.
After seeing two Redbirds runs in the bottom half of the inning, the Big Train offense answered in the top of the second as Hendriks took a bases-loaded walk to score Tucker Tobin (George Mason) and give the Big Train a 3-2 lead.
The Redbirds would tie it once again in the bottom of the third, and it would be a pitching duel from then on. Big Train relievers Ethan Miller (San Diego State), Hugh Adams (Florida Atlantic), and Ryan Doran (San Diego State) matched the Redbirds pitching staff and gave up no runs in seven combined innings of relief. The bullpen combined for seven strikeouts and only gave up three hits.
The spectacular pitching forced extra innings for the second straight day against the Redbirds, and once again a solo home run by the away team was the difference-maker. Adam Barry (Cal State Northridge) was the hero of the night as he turned on a ball and sent it far over the left-center field fence with two outs in the 11th inning.
Doran would give up no hits in the bottom of the inning to pick up the save and give Adams his fourth victory of the season.