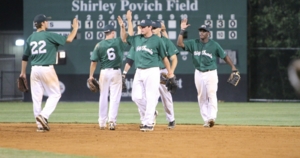 Box Score: W, 3-2
The Big Train advanced to the second round of the playoffs in dramatic fashion last night, defeating the Alexandria Aces 3-2 with a late rally.
Ryan Doran (San Diego State) took the mound for the Big Train, and did everything he could to keep the Big Train in last night's elimination game. Doran gave up just two runs on three hits over six innings while striking out six in what was probably his final start of the season.
After falling behind 1-0 in the top of the second inning, the Big Train got their first run on the board in the bottom of the fourth. Colin Kish (Florida Southern) hit a two-out double to score Michael Bass (UNC-Wilmington) and tie the score at one.
The Big Train found themselves trailing once again after the Aces pushed across another run in the top of the sixth inning.
Ethan Miller (San Diego State) came in to relieve Doran in the seventh, and would be just what the doctor ordered. Miller pitched two perfect innings and kept the deficit at one headed into the bottom of the eighth.
Hunter Renfroe (Mississippi State) led off the bottom of the eighth and reached on a throwing error by the shortstop. He then advanced all the way over to third base on an error by the catcher and was able to score on an Avondre Bollar (San Diego State) single to tie the game and help keep the Big Train season alive.
But the Big Train rally wasn't finished yet. Cole Norton (St. Mary's (CA)) brought Bollar home on a double off the center-field fence. Norton was the designated hitter in last night's game as it was his first game back from a hamstring injury that had kept him out of a week of action.
Miller threw his third straight perfect inning to eliminate the Aces from the playoffs in the ninth.