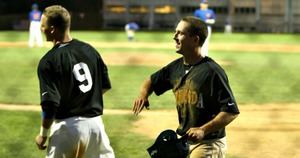 Box Score: W, 3-0
Bo Logan (Florida Atlantic) came up big when it counted. The Big Train needed a big game from their starting pitcher and Logan did it all. In seven innings of work, Logan gave up five hits and no walks and struck out seven.
With that kind of pitching performance, the Big Train needed very few runs to win the game and they got a couple in the seventh inning. The first came on an Adam Barry (Cal State Northridge) single that scored Michael Bass (UNC-Wilimington) after he had stolen second base. Barry then came around to score on an error by the Express.
The Big Train added a run in the ninth inning when Hunter Renfoe (Mississippi State) hit a mammoth home run to left field.