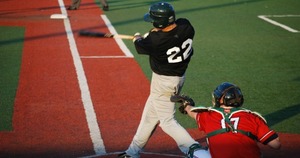 Box Score: L, 3-4
Another Hunter Renfroe (Mississippi State) home run just wasn't enough last night as the Big Train fell to the Baltimore Redbirds 4-3 in the CRCBL League Championship Series.
Renfroe's two-out, two-run blast in the top of the first gave the Big Train an early 2-0 lead. The offense would also see substantial contributions by Michael Bass (UNC-Wilmington), Brendan Hendriks (San Francisco) and Cole Norton (St. Mary's (CA)), who had a solo home run, three hits, and two hits respectively.
Ethan Miller (San Diego State) and Will Resnik (High Point) combined for 4.1 shutout innings in relief, giving up just four hits and striking out a combined five batters.
However, the Big Train would be unable to score a much-needed fourth run in the late innings of the game, as the Baltimore Redbirds won 4-3 to clinch the league championship.