Big Train alumni Alec Burleson (Big Train 2018) and Carson Taylor (Big Train 2018) were selected on Day Two of the 2020 Major League Baseball Draft.
Burleson, a two-way star and former Ripken League Most Outstanding Player, was taken by the St. Louis Cardinals in the second round while catcher Carson Taylor was selected by the Los Angeles Dodgers in the fourth round.
Big Train manager Sal Colangelo knows firsthand what kind of players Burleson and Taylor are and is excited to see them hit the next level.
"I'm thrilled for those two young men," Colangelo said. "They represent what a true baseball player should represent."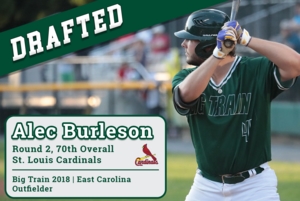 In 2018, his lone summer in Bethesda, Burleson was the top performer on the Big Train and in the entire Cal Ripken League, batting .383 and with a team-leading 10 home runs and 44 RBIs.
He also impressed on the mound, striking out 23 batters over 26.1 innings along with a 0.34 ERA en route to a 5-1 record.
Outside of his time in Bethesda, Burleson starred for the East Carolina Pirates. Even with his junior season cut short, Burleson compiled a 13-5 career record with a 3.46 ERA on the mound, and was formidable at the plate, where he hit .341 with 12 home runs and 91 RBIs over his time in Greenville, North Carolina.
Colangelo believes that Burleson's approach to the game and his mindset is what will allow him to have a lengthy professional career.
"One thing about Alec is that he's a competitor," Colangelo said. "When the first pitch is thrown until the last pitch, Alec is ready to roll. He wants to win, he wants to get better, and he's just a quality individual."
Taylor, meanwhile, was steadfast at the plate for Bethesda in 2018, batting .318 with 3 home runs and 41 RBIs while seeing time behind the plate and in the infield.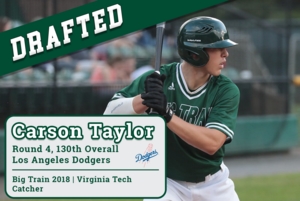 After his successful summer with the Big Train, he appeared in 37 games as a freshman for the Virginia Tech Hokies in 2019, hitting .290 with 2 home runs and 19 RBIs.
Before the COVID-19 Pandemic cut his sophomore season short, Taylor was off to a blistering pace. Through just 16 games, he was batting .431 with 2 home runs and 20 RBIs.
Taylor came to the Big Train out of high school and Colangelo believes that his stint in Bethesda greatly prepared him for the rigors of college baseball and now, professional baseball.
"He was out of his comfort level here since he's from Georgia," Colangelo said. "The game was much faster and here he faced guys that have real pitching repertoires. That really helped him with his approach at the plate as a hitter."
Burleson and Taylor were the only Big Train players to be taken this year.The draft was pared down from 40 rounds to just five due to the ongoing financial situation regarding the COVID-19 pandemic.
Colangelo knows that both St. Louis and Los Angeles are getting high quality baseball players but he's more excited about the fact that they are getting high quality individuals.
"They're both mentally strong," Colangelo said. "They treat baseball as if it's their business."