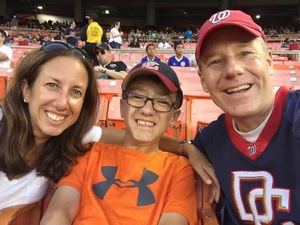 Big Train outfielder Drew Hamrock (Virginia) stood in the box for his fourth plate appearance of the night on June 7, 2019. Looking to start a rally, instead his evening came to an abrupt end, as he took a pitch to the face, forcing him to leave the game.
While not at the game due to a prior commitment, Eric Cole and his family, who were hosting Hamrock for the summer, got a call from the team and immediately drove to meet him at the hospital.
"I knew that he would be super responsive, super fast," Hamrock said. "They jumped in right there, right off the bat. It was kind of funny, once I was there…He was able to sit in the waiting room with me and cheer me up for [what] felt like forever."
Hamrock returned to Big Train later in the summer to help win the team's ninth Cal Ripken League Championship. Cole and his family really made the difference for him that summer.
"It was a great experience," Hamrock said. "They made me feel very welcome. To this day, they go way out of their way for me… For them to see us win it was awesome."
Big Train has become a perfect fit for Cole, currently in his first season as the team's vice president. A lifelong baseball fan, he later pursued lacrosse in college. But, the birth of his son, Ryan, helped reignite his passion for the national pastime.
"Around 2008 or 2009, we probably started going to games with [Ryan] because it was a way for him to see things up close," Cole said. "It was a great atmosphere, close to home and just a wonderful experience."
Baseball became important for Ryan Cole. Born with Dandy-Walker Syndrome – a malformation of the brain involving the cerebellum – his developmental, intellectual and motor skills weren't up to that of his peers.
As a result, Ryan bonded with the game, not from playing, but through pencil and paper. He found a vital niche in the dugout as the team scorekeeper on his church's baseball team.
"One of the things that a coach did early on because Ryan liked the game so much was to tell the other boys that Ryan was going to keep the lineup," Cole said. "The boys wanted to know what the order was, but the coaches wouldn't tell them. They would say, 'You go ask Ryan.'"
Keeping lineups evolved into Ryan's passion: scorekeeping. Therefore, Cole and his wife, Andrea, wanted to support him and get him closer to the sport – something more intimate than traveling to Nationals Park or keeping score at Big Train and youth games.
What better way to do that than to host a Big Train player? The Coles did exactly that last summer. Opening their home up to Hamrock was as perfect an experience for everyone as they could have hoped for.
"I really love Ryan. He is fun to be around," Hamrock said. "…I still refer to Ryan as my little brother."
Hamrock introduced Ryan to Big Train manager Sal Colangelo, who immediately welcomed Ryan and the Coles into the Big Train family.
"The players have a big heart to try to welcome him into our family of baseball as much as we do with the players and families," Colangelo said. "Ryan's just an amazing person. It was just a win-win. Couldn't have happened to a better young man."
Through scorekeeping, the Coles met Big Train president and founder Bruce Adams during games at Shirley Povich Field and on the road.
"Ryan is an avid scorekeeper, and I'm a scorekeeper. I started sitting with him and chatting with him at the Big Train games," Adams said.
Their relationship blossomed during this past offseason when Adams asked the elder Cole to be part of his think tank as he prepared to retake leadership of the club. As Adams knew, the busiest people often do the best work.
Baseball is just the tip of the iceberg for Cole, who is the Deputy Executive Officer at the National Cancer Institute (NCI) at the National Institutes of Health (NIH).
In 2005, he founded the Dandy-Walker Alliance, Inc., a nonprofit that supports families worldwide affected by Dandy-Walker Syndrome.
He served on the President's Committee for People with Intellectual Disabilities from 2008 to 2010, and on Maryland's Developmental Disabilities Council from 2008 to 2018. Currently, he is on the Business Advisory Council for SEEC, a nonprofit dedicated to the inclusion of people with developmental disabilities.
When the Bethesda Community Base Ball Club was reestablished, Bruce asked him to serve as Vice President. "Eric was the first person I thought of," Adams said. "I could feel the passion that he had for the game and Big Train."
In Cole's current tenure on the board, he has made what looked to be a difficult, sudden transition of team stewardship quite easy.
His commitments with the NCI and the Dandy-Walker Alliance make for a busy schedule. However, he's always able to find time to work on building Big Train, which brings him joy.
"The Big Train, with Bruce's leadership, embodies the value and the character of an organization that I am proud to be a part of and consider myself extremely lucky to have this opportunity," Cole said. "…It's literally a dream come true."