Since he was eight years old, Tim Kurkjian has lived and breathed baseball. Whether he was playing, umpiring or writing about it, he couldn't see himself making a career out of anything else.
Early in his writing career, one of his gym teachers at his alma mater, Walter Johnson High School in Bethesda, pulled him aside after reading one of his stories in the school paper – admittedly a very poorly written one.
"I hope you're not planning on making this your life's work," Kurkjian, laughing, remembered him saying.
Now, the Bethesda native is one of ESPN's top baseball analysts, but he never forgets where he came from, and each step which guided him to a career he once only dreamt of.
Kurkjian was raised in a naturally talented family; his older brothers, Matt and Andy, had successful high school and college baseball careers. Andy, his oldest brother, went on to graduate with a doctorate from Massachusetts Institute of Technology – the same school where their father completed his undergraduate degree.
Success in the classroom was a priority in the family, but for Tim, sports reigned supreme.
"I was one of those kids, not particularly well-rounded, not particularly interested in a lot of things other than sports," Kurkjian said.
In fact, when he wasn't at school, he could be found at the baseball fields in Cabin John Regional Park, because nobody could keep him away from the sport.
"I would watch all the games there and routinely I would play a game there, go take a shower and then I would umpire a game there, sometimes umpiring a game with kids who were only a couple years younger than me," Kurkjian said. "I would spend a lot of time at Cabin John Regional Park."
Growing up in a tight-knit community like Bethesda, his close friends would regularly gather and play baseball, only adding to his love for the game.
"There was not a day in my childhood, say age six to 18, where I didn't walk out my front door, and I had buddies of mine that you would go play a game with any time you want," Kurkjian said. "That's what I remember most. Not just all the friends I had, but how we would so easily get a group together and go make a pickup baseball game."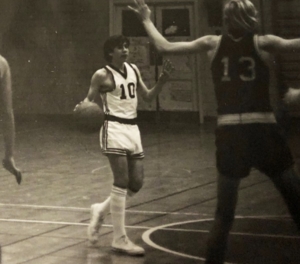 He played baseball and basketball in high school, but was aware that his short stature, among other things, limited his future athletic prospects. He was advised to take up writing for the school newspaper, The Pitch.
He later learned of a conversation his older brother had with their father regarding Tim's future path. Andy questioned what kind of career his youngest brother would pursue, since he couldn't find much that interested him. His father thought differently, though.
"He looked at my brother, who wasn't trying to be mean or hurtful. He was just concerned for his little brother…and my dad said, 'Tim will be fine, Tim will figure this out.'"
Kurkjian decided to study journalism at the University of Maryland and covered sports for a local news outlet, the Montgomery Journal. Soon after graduating from Maryland in 1978, he landed his first job at the Washington Star, which had previously turned him down multiple times.
While freelancing at the Star, he traveled to Albany, New York, to cover an event at Rensselaer Polytechnic Institute. This trip tempted him to leave the Star in pursuit of a full-time, salaried staff job at the Albany paper.
However, he sought out advice from one of his professional mentors, Dan Shaughnessy of the Boston Globe, who advised him to stay put in Washington, where the larger market might offer more opportunities.
He took Shaughnessy's advice and stayed with the Star, finally earning a spot on the full-time staff. But only four months went by before the paper folded, and just like that, he had to search the job market again.
"We were just told one day that in two weeks there would be no more Washington Star," Kurkjian said. "I wanted to work for the Star for the rest of my life, that's how much I loved that job."
Luckily, Kurkjian landed a job at the Baltimore News-American just two days after the Star officially folded. He covered the Maryland basketball program – a great beat to have as a new staff member – as well as the Baltimore Orioles.
However, his luck ran out after just two months as the paper downsized and laid off around 45 people, the first of whom was Kurkjian.
"I was the first guy to get laid off because I was the last guy to get hired. I lost two jobs in two months, and none of it was my fault," he said. "It was not easy, I had to show some perseverance which, thankfully, I did, and it's much easier to do that when you're young."
Kurkjian reflects on the advice from Shaughnessy, saying it was key in launching his career.
"Even though these papers folded while I was there, the best thing that happened to me was I stayed at the Washington Star, and I saw those great writers, and I got great exposure working for a tremendous sports section," Kurkjian said.
Not only did staying put give him exposure and a chance to grow, but it allowed him to make connections, like Dave Smith, his former boss at the Star. Smith left the Star to work in Dallas shortly before the paper folded, and when Kurkjian's position at the News-American didn't work out, his connection led to a job covering sports for the Dallas Morning-News.
"That turned out to be a great move for me because I got offered a job, there was no doubt I was going. I was a little bit afraid because I had never left home before, never left D.C. before," Kurkjian said. "It turned out to be a great thing, and Dallas was a tremendous experience."
He eventually worked his way up to Sports Illustrated in 1989. While there, he was offered a job at the Washington Post by sports editor George Solomon, which he respectfully declined, preferring to stay in his then-current role.
Solomon had interviewed Kurkjian for a position years before when he was with the Washington Star, and told him bluntly after a nine-minute interview that he wasn't ready to work at the Post.
"He was right," Kurkjian said. "He always tells the story that one of the biggest mistakes he ever made was not hiring me out of the Washington Star, and I always disagree. I didn't deserve a job back then; I wasn't good enough."