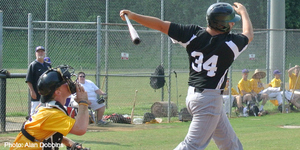 The Bethesda Big Train (22-6) travled to Baltimore to play the Redbirds (16-8) in a battle between the top two teams in the league. Kit Scheetz (Virginia Tech) recieved the start for Bethesda and went five innings. The Big Train lost 5-2 in a game that ended early due to darkness.
The Big Train were looking up on the scoreboard from the beginning of the game. Through two innings, the Big Train were down 3-0.
The Big Train scored their only two runs on a single by Tony DiLeo (Eastern Michigan). DiLeo advanced to third and Sean Labsan (Florida Atlantic) and Kevin Tatum (Cornell) scored on a bad throw by a player on the Redbirds. Bethesda cut the lead to 3-2, but the Redbirds scored the remaining two runs before the game was suspended.
Notes: Kevin Tatum walked three times....Brandon Lowe (Maryland) walked twice....Come out to Shirley Povich Field on Friday for Super Hero night as the Big Train take on the Herndon Braves.