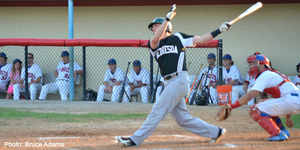 On Thursday night the Bethesda Big Train (25-6) returned to the field after the All-Star break as they traveled to Silver Spring to play the Thunderbolts (11-20). Jake Valdez (St. Mary's College (CA)) received the start and in the 3-2 victory pitched six innings allowing six hits and one earned run while striking out six batters.
Ray Lambert (Cal State Northridge) allowed two hits in his two innings of bullpen duty while Andy Frakes (San Francisco) recorded the save, pitching a one-hitter in the 9th inning.
In the 3rd inning, the Big Train opened up the scoring. After Cody Brown (Mississippi State) tripled off the right field fence, Logan Farrar (Virginia Commonwealth) got his 23rd RBI on the season on a sacrifice fly to give the Big Train a 1-0 lead.
In the 5th inning the Big Train crossed the plate again on another sacrifice fly. Cody Brown walked and advanced to third on a throwing error by the pitcher on a pickoff attempt. Brandon Lowe (Maryland) then hit a a sacrifice to score Brown for his second run of the game.
The Big Train scored what ended up being the game winning run in the 6th inning. Andrew Brown (San Diego State) walked and then advanced to second on a wild pitch. Ryne Willard (N.C. State) then doubled down the left field line scoring Brown to put the Big Train up 3-1.
Come out Friday night to Povich Field as the Big Train host the Gaithersburg Giants.