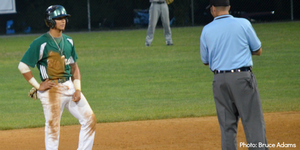 The Bethesda Big Train (27-7) looked to continue their five game winning spree as they faced the DC Grays (11-22) in a battle between first and last place teams on Sunday night. Taylor Stiles (Maryland) took the mound for Bethesda, looking to preserve his 4-0 start and 1.95 ERA. In the 5-1 loss, Stiles allowed two earned runs on eight hits against four strikeouts over six innings of work.
The Grays struck first, scoring two runs on two hits in the top of the 2nd inning.
However in the bottom of the 2nd, the Big Train got one back on an RBI single by Andrew Brown (San Diego State) that scored Chris Lewis (Sacramento State), who singled to lead off the inning.
In the bottom of the 5th inning, Stephen Alemais (Tulane) broke the Big Train single season record with 22 stolen bases on the season. The previous record was 21 set back in 2005.
The Grays scored a run in the 6th, taking a 3-1 lead on two hits and an error by the Big Train.
Late in the game, the Grays tacked on another two runs giving them a 5-1 lead. The Grays were able to sustain their lead for the rest of the game and take the win.