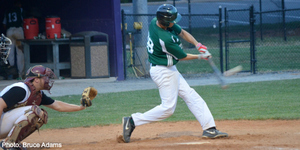 For the final game of the regular season, the Bethesda Big Train (31-9) traveled to Rockville to take on the Express (24-16). Five pitchers shared time on the mound for the Big Train, conserving the arms of the starting rotation and bullpen as the playoffs approach. Tim Yandel (Tulane) pitched the first two innings of the game for the Big Train, allowing only one hit. The Big Train lost the game 5-2, but still end the regular season as champs.
The Big Train were first to put a tally on the scoreboard when they crossed the plate for one run in the top of the 2nd inning. Stephen Alemais (Tulane) singled home Kevin Tatum (Cornell) who singled to get on base. Tatum and Alemais were the only two Big Train players to get more than one hit.
In the 7th inning, Cody Brown (Mississippi State) hustled all the way from first base to score on a double hit by Kevin Tatum.
The CRCBL Playoffs begin on Monday, with the #1 seed Big Train having a first round bye. The Big Train will have home field advantage throughout the playoffs with their first game taking place on Tuesday at 7:30 at Shirley Povich Field.