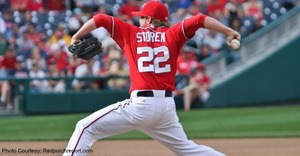 The starting closer from the Washington Nationals, Drew Storen, will be attending our Big Train Celebrity Camp! The camp will be held at Shirley Povich Field in Bethesda from July 6 - July 10. Sign up by April 15 to receive a 10% off early bird discount on camp registration. Click here to register today!
Drew Storen is in his sixth year with the Nationals. In 2014, Storen recorded 11 saves, 46 strike outs and a 1.12 ERA. After an impressive end to the regular season in 2014, Storen is now slated to be the starting closer for the Nationals in 2015.
All campers will receive excellent instruction in the fundamentals of the game as well as the opportunity to play in a live game each day. Each camper will receive an official Big Train & BCC Baseball Summer Camp t-shirt that will entitle the camper to free admission to all Big Train home games at Shirley Povich Field during the 2015 regular season.