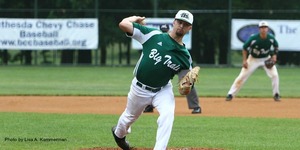 The Bethesda Big Train ended its three-game losing streak with a rain-shortened 3-0 win over the Baltimore Dodgers at Shirley Povich Field Wednesday night.
After a substantial amount of rain, the umpires decided to call the game with one out already recorded in the top of the 6th inning.
Big Train established a lead early in the contest. In the very first inning Tim Yandel (Tulane University) reached home off of an RBI single hit by Zach Kirtley (St. Mary's College (CA)).
The hot start continued into the second inning, as Big Train would score two more runs in the bottom of the inning. Harrison Crawford (Creighton University) led off with a double to left field that bounced just before it looked like it might clear the fence.
After Brandon Hunley (Sacramento State University) popped out for the first out, Justin Morris (University of Maryland) took a walk.
The runners were able to advance to second and third off of a wild pitch from Dodgers pitcher Ryan Callahan. Ryne Willard (NC State University) then hit a hard grounder that allowed Harrison Crawford to score.
Big Train would further extend that lead in the next at-bat when Andrew Bechtold (University of Maryland) hit an RBI single to bring in Justin Morris and give his team a 3-0 lead it would not relinquish.
Big Train hit well in this rain-shortened game, but without a dominant performance from starting pitcher Chris Monaco (Virginia Tech University), the team likely could not have held on for a win.
He pitched the entire game, 5 1/3 innings, and only gave up four hits during that span. He struck out three batters as well, two of which came back to back in the third inning.
Notes: Monaco lowered his ERA to a sterling 1.17 after tonight's contest… With another hit in tonight's game, Zach Kirtley raised his average to an impressive team-high of .333… Big Train will travel Thursday night to face the Alexandria Aces before returning home Friday night for Super Hero Night against the Vienna River Dogs… Gates open at 6:00 first pitch at 7:30.