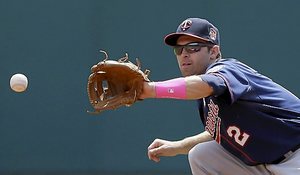 After being left off the American League's initial 2015 All-Star roster, Brian Dozier (BT '06) let his bat do his campaigning.
On July 7, he was announced as one of five American League Final Vote candidates. He celebrated by launching a two-run walk-off homer in extra innings to seal a series-opening win against the Orioles that evening.
Dozier finished second in the Final Vote, and, again, responded by capping a seven-run ninth inning rally with an upper-deck walk-off bomb, Friday.
During Saturday's day game, Dozier received a standing ovation from an adoring Target Field crowd after the announcement that he would replace an injured Jose Bautista on the American League roster.
The Big Train alumnus promptly followed the announcement with a single.
Tied for the league-lead with 66 runs scored on the season, Dozier will deservingly get a full taste of the all-star week festivities for the first time; he participated solely in last season's home run derby in front of his hometown Minnesota fans.
The Twins second baseman joins starter Jose Altuve and fellow AL Central reserve Jason Kipnis in Cincinnatti for Wednesday's 86th MLB All-Star Game.