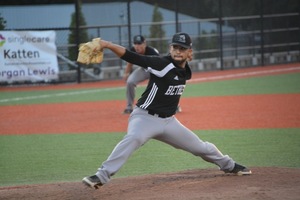 With an opportunity to clinch a number one seed and home field advantage in the playoffs, the Bethesda Big Train lost a pitchers' duel in D.C. that resulted in just three total hits.
Luiz Collazo (Virginia Tech) strung together his best consecutive five-inning stretch of the season allowing just one hit, striking out five and walking one.
After tossing 14 2/3 innings in relief this season, Collazo has seen manager Sal Colangelo transition him into a starter down the stretch. The Hokie won his first start of the season on July 16 against the Baltimore Dodgers.
The Big Train were shut down by Grays starter Quinn Carpenter over the game's first seven innings, striking out nine times.
With everyday leadoff hitter Cody Brown (Mississippi State) getting the night off, Brandon Hunley (Sacramento State) was slotted atop the Bethesda order, Wednesday.
After tossing a first-pitch strike to Hunley to open the game, Carpenter's next pitch ran inside hitting the second baseman. Carpenter set down the next 14 hitters in a row, half via the strikeout, until Andrew Bechtold (Maryland) doubled in the fifth inning notching the Big Train's lone hit of the day.
Bethesda would threaten in the sixth despite registering no hits in the frame. Tony DiLeo (Eastern Michigan) worked a two-strike hit by a pitch and advanced to third on a Hunley sacrifice and passed ball. A Matt Toscano (St. Mary's, Calif.) walk – one of his two on the night – and stolen base put two runners in scoring position for the league's best run producer Chris Lewis (Sacramento State), who could not come up with a clutch two-out hit to break the scoreless tie.
Both Grays' hits came off the bat of Harvard junior Drew Reid.
Entering the game in the sixth, Tyler Loptein (San Diego State), surrendered two runs – only one earned – on one hit and two walks. Grays outfielder Tony Holton produced his teams' first run with his legs alone after drawing a walk, stealing second and ultimately home in the same at-bat.
Reid's second hit of the night scored the Cal Ripken League All-Star Game's Most Outstanding Player, Kurt Sinnen from second.
Those two runs proved enough for D.C. to salvage the final of the divisional opponents' five games on the summer. Bethesda won the first four by a combined score of 28-12.
Zack Irwin recorded the save for D.C., tossing two hitless innings in relief.
Miller Trevvett (Radford) continued his stellar relief work, tossing two 1-2-3 innings in both the seventh and eighth. The 5-foot-11 sophomore lowered his earned run average to 0.56 on the season.
Notes: Bethesda stranded six batters on the evening … The Big Train will look to clinch home field advantage and a No. 1 seed in the playoffs tomorrow night in Herndon, Virginia … Join the Big Train for Fan Appreciation night at the regular season home finale at Shirley Povich Field on Friday, July 24