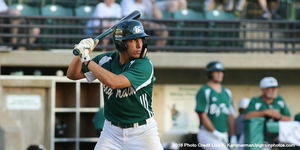 On the heels of Wednesday's frustrating 4-2 loss to the Alexandria Aces, the Bethesda Big Train looks to right the ship against the Baltimore Dodgers. The game will be the first matchup between the two teams this season. The Dodgers are currently 5-2 and in second place in the North Division of the Cal Ripken League. Last season, Big Train swept the season series against Baltimore (4-0), posting a +26 run differential and a 1.91 team ERA.
Big Train's probable starter is Chris Monaco (Virginia Tech University). Monaco last pitched on June 9, against the Vienna River Dogs, in his first start of the season. In that game, he threw 5 innings, only allowing 1 run on 5 hits and 2 walks. His ERA to this point is 1.80. In his only start against the Dodgers last season, Monaco pitched 5 ⅓ innings and did not allow a run.
Clayton Daniel (Jacksonville State University) still leads Big Train in hitting with a .417 batting average. Both he and leadoff man Garrett Kueber (Moorpark College) got 2 hits in Wednesday's game. Look for them to provide a spark at the top of the lineup versus the Dodgers.
First pitch is scheduled for 7:30 PM. Senior citizens and graduating high school and college seniors will receive free entry for Homer's Birthday.