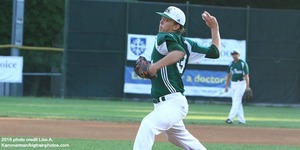 The Bethesda Big Train (4-4) return to action Friday night against the D.C. Grays after their game on Thursday was postponed after three innings due to rain. The Big Train have gone through a rough stretch as of late, dropping four of their last five games, but will have an excellent opportunity to right the ship against the Grays, who they defeated in their season opener 13-1. The Grays will come to Shirley Povich Field with a 3-5 record.
The Big Train's starting pitcher will be Logan Gilbert (Stetson). The sophomore right-hander will receive his first start of the year, having tossed only one scoreless inning in relief thus far. In that inning against the Silver Spring-Tacoma Thunderbolts, Gilbert gave up 1 hit and notched 1 strikeout.
At the plate, one player to watch for the Big Train will be leadoff man Garrett Kueber (Moorpark). Kueber had a tremendous hitting night in a losing effort against the Alexandria Aces on Wednesday, going 2-3 with a double, a walk, and an RBI.
The action will get underway at 7:30 p.m. at Shirley Povich Field.