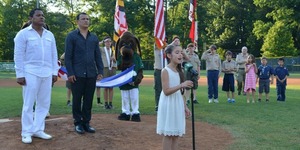 After the Big Train cut its two game skid on Thursday night, the team's focus shifted over to the team that it last came out victorious against, the Rockville Express.
This past Sunday, the Big Train defeated Rockville 14-2.
With the loss, the Express learned something: The name of Michael Emodi (Creighton).
Emodi smacked two home runs in the ballgame. To put that into perspective, only 10 players in the entire Cal Ripken League hit more than two home runs in all of 2015. Only one, Chris Lewis, played for the Big Train.
Four of Emodi's teammates recorded at least two hits in the game and only one player was unable to reach base during an official at-bat. That player is Bethesda's leader in batting average (.364) who walked in three of his five plate appearances.
Garrett Kueber (Moorpark) and Vinny Esposito (Sacramento State) combined for five hits, four runs and five RBIs.
Though projected starter Drew Strotman (St. Mary's) was tagged with the loss in his last and only outing on June 13, he did not allow a single earned run and struck out one batter per inning (5).
Shirley Povich Field will once against play host in the Big Train's fourth of six straight home games. First pitch is scheduled to be thrown at 7:30 p.m.