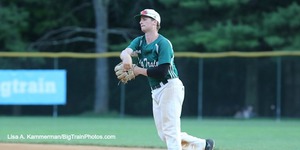 After splitting a doubleheader with Vienna, the Big Train travel to Gaithersburg for their first away game since June 12.
Revenge will certainly be on the Big Train's mind as they look to avenge an 8-3 loss they suffered to the Giants earlier in the season. Allen Smoot (San Francisco) had a successful day at the plate with two hits and one RBI. Mack Meyer (San Francisco) stopped the bleeding out of the bullpen in his longest outing of the season. He pitched 3.2 innings, gave up no runs on one hit and struck out two.
The projected starter for the Big Train is righty Drew Strotman (St. Mary's). Though he picked up a loss, Strotman looked sharp in his only start of the season. He pitched five innings, gave up no earned runs and struck out five.
First pitch is scheduled for 7:00 p.m. at Criswell Automotive Field at Kelley Park.