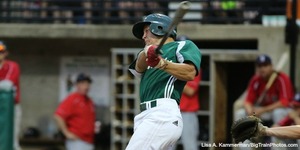 The Bethesda Big Train faced an uphill battle as they entered game one down 5-0 from a previous rain delayed contest. They fought back in what turned out to be a 15-inning marathon game to earn their second walk-off in as many games.
Matt Herzog (Louisburg) performed exceptionally well in relief early on. He pitched five innings, gave up no runs on five hits and struck out seven.
Gunnar Lambert (FAU) got the rally started in the seventh inning with a two-RBI single to the lead to 5-2. Justin Morris (Maryland) and Allen Smoot (San Fransico) each added an RBI to trim the Baltimore lead to one.
Cody Brown (Miss St.) reached on an error to score Clayton Daniel (Jacksonville St.) to even the game in the eighth inning.
Both teams were locked in a stalemate for another five innings when Baltimore broke the tie in the top of the 13th, capitalizing on an error and knocking in an insurance run with an RBI single. The Dodgers captured a 7-5 lead.
However, the Big Train would not go down easy. They rallied once again to tie the game. Austin Hale (Creighton) hit a two-run single.
Bethesda needed a hero in the bottom of the 15th inning with two men on and one out and Garrett Kueber (Moorpark) delivered. He launched an RBI single to right field to win it, 8-7.
The Big Train carried their momentum into game two, notching their second victory of the day.
The Dodgers claimed a 1-0 in the first inning. Bethesda responded in the fifth inning. Morris, Kueber and Smoot all hit RBI singles to right field to make it 3-1 Big Train.
Baltimore got one run back in the bottom of the inning to make it 3-2. The Big Train responded with a run of their own when Sean Labsan (FAU) hit a sac fly to right to score Brown.
Smoot added to the lead with a solo rocket over the right field wall. His second homerun of the season extended the lead to three.
Brown also added a grand slam to cap off an eight run ninth inning.
The Big Train cruised to a 16-2 victory.