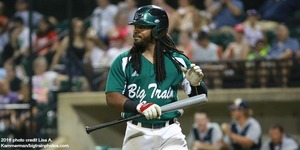 After two straight low-scoring outings, the Bethesda Big Train offense rebounded in a huge way Wednesday night, as they defeated the Rockville Express 9-2. The team will look to carry that firepower into their matchup Thursday against the Baltimore Dodgers. The Big Train have won both of their games against the Dodgers this season, including perhaps the team's most dramatic victory- a 15-inning battle that ended with a walkoff single off the bat of Garrett Kueber (Moorpark), giving the Big Train the 8-7 win.
Taking the mound on Thursday night for the Big Train will be Logan Gilbert (Stetson). The sophomore right-hander has been one of the team's most consistent starting pitchers, with a 1.14 ERA and 16 strikeouts in 15.2 innings. The Big Train are undefeated in games started by Gilbert.
One hitter to watch for the Big Train will be first baseman Vinny Esposito (Sacramento State), who was the star in Wednesday night's offensive outpouring. Esposito went 3-3 with 2 walks, and hit his team-leading 4th home run of the year.
First pitch is scheduled for 7:30 p.m. at Shirley Povich Field.