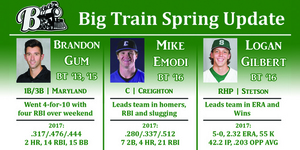 Maryland Terrapins
Zach Jancarski – Outfield – (BT 2017)
- Jancarski had a huge game on Saturday, picking up four hits, including a double and a triple, in the Terps' 5-1 victory over Rutgers. In the three-game series, he had a total of six hits and the speedy leadoff hitter continues to be a catalyst for the team's offense.
Brandon Gum – Infield – (BT 2013 & 2015)
- Gum has continuously proven his value in his lone season with the team, as the George Mason transfer is one of three Terps hitting over .300 (Gum is at .317 for the season). Throughout the Terps' sweep of Rutgers, Gum contributed four hits (including his first homer of the year), two runs and four RBI.
Tayler Stiles – Pitcher – (BT 2014)
- After starting the season in a bit of a slump, Stiles has pitched far more effectively as of late. On Sunday, in the Terps' 6-1 victory over the Scarlet Knights, Stiles pitched four shutout innings of relief and picked up his second Win of the season in the process.
St. Mary's Gaels
Kevin Milam – Pitcher/DH – (BT 2017)
- This star Freshman refuses to slow down; even in the midst of getting swept at the hands of BYU, Milam still put on a show. In the three-game series, he had three hits, two RBI and scored a run. Consider these stats for a minute (or an hour… or a day): Milam is second on the team in batting average (.303), first in extra-base hits (12), second in RBI (20) – on the mound, he has a ridiculous 1.59 ERA and is tied for third in the entire country with nine saves.
Ken Waldichuk – Pitcher – (BT 2017)
- Waldichuk, a fellow Freshman, keeps humming along to the tune of a brilliant 2.25 ERA. He pitched 3.1 innings of relief on Friday in the Gaels' 6-2 loss against BYU, giving up one earned run and striking out six. He and Milam should form a formidable duo this summer, as both will be making their Big Train debuts.
Stetson Hatters
Logan Gilbert – Pitcher – (BT 2016)
- Gilbert has been absolutely sensational all season. Most recently, he pitched six shutout innings, allowing two unearned runs and striking out six hitters. He now has a perfect 5-0 record for the year and leads the Hatters' pitching staff with a sparkling 2.32 ERA.
Jacob Koos – Outfield – (BT 2017)
- Koos remains an integral part of the Hatters' lineup – his .322 average is second on the team and he leads the team in hits (38) and stolen bases (10). Over the weekend, when the Hatters swept NJIT in their three-game series, Koos picked up a total of four hits, scored six runs, drove in another, had three walks and stole three bases. He continues to fill up the stat sheet, and we can't wait to see him on the field this summer.
Sacramento State Hornets
Vinny Esposito – 1B/Outfield – (BT 2016 & 2017)
- Esposito, who will be returning to the Big Train for his second season this summer, is seriously heating up at the plate: over the weekend he had a total of seven hits (including homers in back-to-back games), scored four runs and had five RBI. He's currently on a seven-game hitting streak (the five most recent have all been multi-hit efforts) and second on the team in RBI (18).
James Outman – Utility – (BT 2017)
- Outman, a Sophomore, had a big weekend against Utah Valley University: five hits, two runs scored and one RBI. He's been a critical part of the Hornets all season long, as he leads the team in RBI (22), is tied for the team lead in home runs (3), tied for first in walks (15) and while his average is a respectable .266, his on-base percentage is an excellent .384.