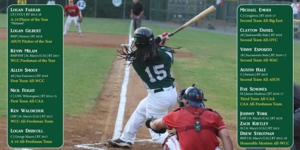 As the CRCBL season is almost here, a number of Big Train players past and present were honored for their college season performances. Stetson RHP Logan Gilbert highlighted the list. The Apopka, FL native was named Atlantic Sun Pitcher of the Year along with First Team All-Conference and Academic All-Conference nods. Gilbert is a 2016 Big Train alum.
Also of note were Kevin Milam (St Mary's, CA) and Logan Farrar (VCU). Milam was named WCC Freshman of the Year and received Second Team All-Conference and All-Freshman Team honors. Farrar earned First-Team All-Atlantic 10 honors.
Additionally, Fox Semones (James Madison) earned Third-Team All-Conference and All-Rookie Team in limited playing time as a freshman.
Of those honored, Semones (James Madison), Milam, Ken Waldichuk (St. Mary's, CA), Michael Emodi (Creighton), Logan Driscoll (George Mason) and Vinny Esposito (Sacramento State) will join the Big Train this summer.
Big Train College Award Honorees
Atlantic 10
Logan Farrar
OF | VCU | Big Train 2013-2016
Player of the Year, First Team All-Conference
Logan Driscoll
C | George Mason | Big Train 2017
All-Freshman Team
Atlantic Sun
Logan Gilbert
RHP | Stetson | Big Train 2016
Pitcher of the Year, First Team All-Conference, Academic All-Conference
Austin Hale
C | Stetson | Big Train 2016
Second Team All-Conference
West Coast Conference
Kevin Milam
RHP/INF | St Mary's (CA) | Big Train 2017
Freshman of the Year, Second Team All-Conference, All-Freshman Team
Ken Waldichuk
LHP | St. Mary's (CA) | Big Train 2017
All-Freshman Team
Allen Smoot
3B | San Francisco | Big Train 2016
All-Conference First team
Drew Strotman
RHP | St. Mary's (CA) | Big Train 2015-16
Honorable Mention All-Conference
Johnny York
LHP | St. Mary's (CA) | Big Train 2016
Honorable Mention All-Conference
Zach Kirtley
SS | St. Mary's (CA) | Big Train 2015
Honorable Mention All-Conference
Ohio Valley Conference
Clayton Daniel
2B | Jacksonville State | Big Train 2016
Second Team All-Conference
Colonial Athletic Association
Fox Semones
IF | James Madison | Big Train 2016-2017
Third Team All-Conference, All-Rookie Team
Nick Feight
C | UNC Wilmington | Big Train 2014-15
All-Conference First Team
First Team All-Conference
American Athletic Conference
Grant Brown
OF | Tulane | Big Train 2014
All-Conference Second Team
Big East
Michael Emodi
C | Creighton | Big Train 2016-17
All-Conference Second Team
Western Athletic Conference
Vinny Esposito
1B | Sacramento State | Big Train 2016-2017
All-Conference Second Team