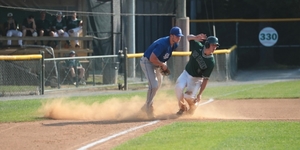 After splitting a doubleheader against the Baltimore Dodgers (8-15) in Bethesda on Monday, Big Train (21-4) will battle the same opponent again at Povich Field on Tuesday, this time while playing as the de facto away team. The contest is a makeup of a game that was originally scheduled for June 22.
After playing 14 innings of baseball against each other during Monday's doubleheader, the two teams will have plenty of familiarity with each other when they meet again in Bethesda. The Big Train lineup showed off plenty of firepower during Monday's nightcap, an 11-1 victory, and will aim to continue its momentum into Tuesday's matchup.
Neither team has named a probable starting pitcher for the game. As the away team, Bethesda will wear its black away jerseys and bat in the top of each inning. All other operations will be carried out as they would for a typical Big Train home game.
As always, first pitch at Povich Field will be at 7 p.m. Big Train will provide updates through Twitter (@gobigtrain) and Instagram (gobigtrain). The Big Train radio broadcast can also be found under the "Watch Live" button on the Big Train homepage.