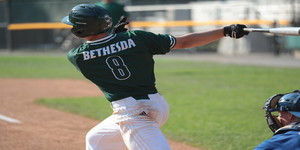 After celebrating the fourth of July yesterday, Big Train will be traveling to Loudoun Virginia to take on the Riverdogs in an evening game. This will be the fourth time this season that the two teams have played, and Big Train has come out with the win in all of their previous games.
They look to continue this trend tonight in Virginia. Big Train has a record of 22 wins and 4 losses for the season, and the Riverdogs have 6 wins and 18 losses.
Some standout players on the Riverdogs include: Greg Popatak, who leads the team with 2 homeruns, 9 RBI, and a batting average of 0.279; Matthew Thomas, who leads the team with 17 RBI and a batting average of 0.338; and Collin Watt, who stands out with 9 RBI and a batting average of 0.290.
First pitch is scheduled for 7 p.m. in Loudoun Virginia. Stay updated with Big Train throughout the game on Twitter and Instagram @gobigtrain and by listening to a live broadcast from the Big Train homepage with PJ Glasser and Max Wolpoff.