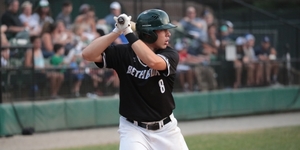 After several Big Train players performed well in the CRCBL All-Star Game on Wednesday night at Povich Field, Bethesda will host the Dodgers in the first of its final seven games before the playoffs.
Thursday's game will feature plenty of star power, as the two teams feature a combined total of 20 All-Stars. Big Train hitters combined for 12 hits, 13 runs and 10 RBI in the lopsided All-Star Game, while Dodgers outfielder Alex Taylor scored the North Division's lone run.
Big Train is continuing to fight the Baltimore Redbirds for the overall top seed in the Ripken League playoffs, which begin in just over a week. The Dodgers, who sit 14 games behind the Redbirds in fifth place in the North, are on the outside of the race for the last four playoff spots.
Bethesda has a 2-1 lead in the teams' season series so far. The Dodgers' probable pitcher is Jake Vance, who has a 3.08 ERA through four starts this season. Big Train has not yet named a probable starter.
First pitch at what will be 70s night at Povich Field is set for 7 p.m. Live updates will be available on Twitter (@gobigtrain) and Instagram (gobigtrain). As always, the Big Train radio broadcast can be found at the "Watch Live" link on the Big Train homepage.