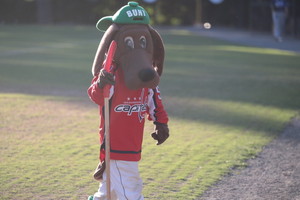 The D.C. Grays and Bethesda Big Train intended to play a double-header on Tuesday, but the second game of that tilt was rescheduled due to rain. On Saturday, the teams will make their second effort to play that set of games.
Following three consecutive victories, the Big Train have improved to 10-3 on the young Cal Ripken League season. It seems they're really settling into a groove, having won eight of their last nine.
Their next two games will be on Friday against the D.C. Grays. So far this season the Big Train and Grays have been pretty competitive when they've met. While the Big Train are 2-1 against the Grays, two of the games have been decided by a mere run. The other game was Tuesday and finished as an 8-2 Bethesda win in 5 innings.
In this game, look for pitching to be a key. In the Big Train's 3-game winning streak, they've limited opponents to 2.66 runs per game. If the Big Train can do that again against the Grays, their odds to win look good considering the way they're swinging the bats. The first game will be scheduled for 5 p.m. and the second game starts at 7 p.m. The forecast is looking extremely clear and not as extremely hot, so that should be all the motivation you need to come out and support the Big Train on the road. See you there.