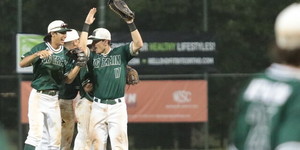 The 2019 Cal Ripken League Playoffs are here, and after a first-round bye, the top-seeded Bethesda Big Train will begin their quest for seventh league championship against the Alexandria Aces Friday night at Shirley Povich Field. Bethesda and Alexandria will play a best of three series with game one played in Bethesda and game two at Frank Mann Field in Alexandria. If Game 3 is needed, it will also be played in Bethesda at Shirley Povich Field.
The Aces entered the postseason with the worst regular-season record in the Cal Ripken League but Thursday they upset the third-seeded FCA Braves 6-4 to advance to the second round against Bethesda.
In eight regular-season match-ups with the Aces, the Big Train went 7-1 and outscored Alexandria 72-22. In three of Bethesda's seven wins against the Aces, the Big Train pitching staff did not allow a run including no-hitting the Aces back on June 6th.
A handful of league MVP candidates will be on display in this semifinal series. Alexandria's Scotty Morgan (George Mason) finished the regular season with a league-high nine home runs and hit a steady .304 average. Bethesda's Kobe Kato (Arizona) set three Cal Ripken League records by finishing the regular season with a .441 average, .612 on-base percentage and drawing 48 walks. In addtion, Bethesda's Matt Thomas (William & Mary) led the league with 40 RBI's and finished fifth in the league with a .345 average.
First pitch for game one is set for 7 p.m. Friday night with gates opening at 5:30 p.m. All tickets are $5. Season passes do not allow entry into the postseason. Host Families of Big Train will gain free entry.