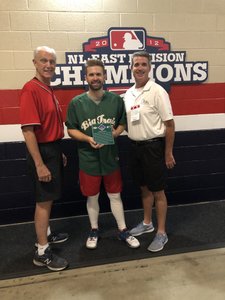 Brian Dozier (Big Train 2006) and the Washington Nationals won the 2019 World Series Wednesday night, defeating the Houston Astros 6-2 in a winner-take-all Game 7. The victory clinched Washington's first World Series championship since Walter Johnson -- the Big Train -- helped the Senators to the title in 1924.
Dozier is the second Big Train alum to play in the World Series, and the first to win a ring. He came up short with the Los Angeles Dodgers last year, and Cody Allen (Big Train 2008) also came up short with Cleveland in the 2016 World Series.
Dozier, along with Tampa Bay infielder Brandon Lowe (Big Train 2014), is one of two Big Train alumni to play in the playoffs this season, and one of eight alumni to appear in a major league game in 2019. The Southern Mississippi product made eight appearances during the Nationals run to the championship. He debuted with Minnesota in 2012, and owns a .245/.326/.422 line with 192 homers across eight major league seasons. This year, he became the first Big Train alum to play for the Washington Nationals.
Earlier this summer, Dozier was part of the Cal Ripken Collegiate Baseball League Hall of Fame's inaugural class. He was one of three Big Train inductees, along with Manager Sal Colangelo and Co-Founder Bruce Adams.
Listen to Dozier's postgame interview with MASN's Bob Carpenter here: https://www.youtube.com/watch?v=i9MwJNwsNWk