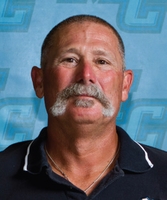 Mario Porto
Assistant Coach
Coach Porto returns to Bethesda for the summer of 2017. Porto is currently the head baseball coach at Moorpark College in Moorpark, California. He has held that position with the Raiders for more than a decade. Prior to his current position, Porto was the head coach at Moorpark High School in Moorpark California. He was previously a hitting coach with the Rockville Express.
Porto attended Hueneme High School in Oxnard, California where he was an All-League third baseman for the Vikings. Porto went on to play at Ventura College in Ventura, California where his play for the Pirates caught the eye of a coach from Division III powerhouse, Cal-State Stanislaus. Porto went on to play for and graduate from Cal- State Stanislaus in Tulock, California. While Porto played at Cal-State Stanislaus, the Warriors were NCAA Divison III Champions in 1976 and 1977.
Coach Porto and his wife, Julie, live in Thousand Oaks, California along with their two daughters Katie and Kellie.