Coaches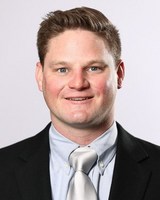 Patrick Reynolds
Athletic Trainer
Patrick enters his first year with the Bethesda Big Train as Head Athletic Trainer. He also works at the University of Maryland as the trainer for the women's tennis and cheerleading programs.
Reynolds spend the 2018-2021 seasons working in the Cleveland Guardians' organization providing medical care across multiple minor league affiliates.
In 2016, Reynolds graduated from the University of Delaware with a bachelor's in athletic training. He then went on to graduate with a master of science in sports management from East Tennessee State University.