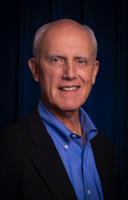 Bruce Adams
Co-Founder
E-mail:
Bruce Adams and John Ourisman co-founded the Bethesda Community Base Ball Club in 1998. Bruce was the driving force behind the Big Train in its early years and continues to be involved to this day. He can be seen regularly at Shirley Povich Field during Big Train games.

Bruce was the Director of Montgomery County Executive Ike Leggett's Office of Community Partnerships (OCP). Bruce served as an elected member of the Montgomery County Council from 1986-94, and was council president in 1991 and 1992. Bruce also founded the Fields of Dreams after-school program in Washington, DC (2002). Bruce is a graduate of The Landon School (1966), Princeton University (1970), and the Georgetown University Law Center (1974).

In 1998, Bruce was named Washingtonian of the Year by Washingtonian Magazine and received the 1993 Metropolitan Washington Council of Governments of Scull Metropolitan Public Service Award as the elected official who has contributed most significantly to the enhancement of intergovernmental cooperation in the Washington Metropolitan Region. In 2005, he received the William Prescott Allen Award from the Bethesda-Chevy Chase Chamber of Commerce.

Bruce and his wife, Peggy, are co-authors of Baseball Vacations, a guide to family baseball vacations (Fodors/Random House, 1997, 2000, & 2002).